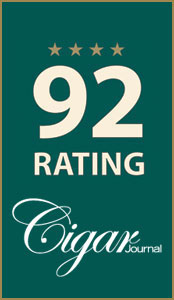 In its creation, "Fina Fuerte" (Fine Strong) was the main quality that most inspired us. Our master blender had created this cigar from a combination of carefully selected and aged tobacco leaves. It has a subtle strength, with flavor and aroma that could only be achieved with the blend of Corojo Habano de Nicaragua, long fillers from San Andres – Mexico and fields from Estelí and Condega in Nicaragua.
A delightful aroma of chocolate and cedar could be found on the retrohale, making the flavors that much better, and overall enhancing the experience.
The wrapper gives off a sweet tobacco aroma, and the foot produces a fruity caramel smell. Once torched, the cigar gives me flavors of cinnamon and wood with black pepper spice on the finish.
After lighting and taking the few initial puffs, there was an explosion of flavor, almost all floral. Wow.
We smoked a lot of cigars in 2014 and now it's time to announce our top 10 cigars of the year.
I fired it up, and from the first puff to the nub there was rich creamy smoke throughout.
I fired it up, and from the first puff to the nub there was rich creamy smoke throughout.
Three in 1/2 inches in, the cigar starts to transition a little bit. The body has moved up to full.
Perfect draw. Very straightforward, medium tobacco taste first-flight. Has an aged taste. Very nice.
The draw is open, impeccable, and is billowing smoke. Also producing a very clean burn line.
Smoking beautifully. Getting through the second-third, flavor-wise, getting a lot of that spice.
The cigar finishes out perfectly. No bitterness or harshness. It stays cool.
Hitting the 1/2 way point 45 minutes in construction is still excellent while the flavors mellow just a touch to a medium-full body, shifting to a deeper general earthiness and a big pepper flavor without any spice or zest.
Very, very enjoyable smoke - truly awesome and quite impressive...
Beyond the dominant pepper there was more complexity to the flavor with the Emerald, in turn making it more of an enjoyable experience for me.
From a flavor perspective, the 1502 Emerald is another departure from my norm and is a fabulous cigar. It is medium in terms of body and mild-to-medium in strength; starting out quite mild, but picking up in strength throughout the smoke...
This cigar features a dark tan firmly packed wrapper with a dry rough toothy feel, a couple small veins, tight invisible seams and a rich peppery wood aroma. Overall, great burn time and excellent performance.
This cigar without a doubt blew me away! I am a full body smoker and never expected this of all three to be the cigar that won me over. All three releases by 1502 are fantastic as each stands on its own but the Emerald goes above and beyond!
This 1502 Cigars Emerald Series in Torpedo. This is a well constructed box pressed cigar with a slightly covered foot. Good mild flavors from the cigar, ample smoke. A great cigar for a beginner or someone who likes mild and smooth cigars.
A lot of cigars on the market today tend to taste the same making "great" or "memorable" cigars a hard commodity to come across. This isn't the case with 1502 Cigars. Whether it is the Emerald, Ruby or Black Gold each delivers something dynamic, unique and versatile experience to today's cigar smoker.
There is a good amount of thick creamy smoke being produced with each puff. The draw was perfect from start to finish.
As the burn progressed other flavors in this complex cigar came and went. I found oak, leather, brown sugar, cedar, earth, molasses, black pepper, sweet cream and more coffee.
Overall, this cigar is a winner. Perfecto fans will really enjoy this cigar. If you come across a 1502 lounge, definitely check out this cigar.
My experience with the perfecto was definitely better than with the torpedo and has made me want to try other Emerald vitolas soon. If you can get your hands on one or another vitola, I say give it a try!
I found it quite intriguing and pleasant.
A unique cigar taking two of the most debated topics by Cigar Aficionados and combining them. (Lancero & Boxpressed). If you are not a fan of either we highly recommend giving this cigar a try for the taste alone.
The #8 spot on our list is a bit unique in that it is a line extension, not necessarily a new cigar (but it still qualifies!)
It's a very nice smoke, with a dry, woody finish.
The cap came off with perfection and the first light of the cigar has a wonderful aroma and a bit of spice through the nose.
As the cigar progressed through the first third and second third, the natural tobacco, coffee, and chocolate notes alternated as to which was the primary flavor...
The 1502 Emerald has consistently scored very well on many of the sizes assessed on Cigar Coop. With the Corona, this takes the line to another level. It's a great cigar for just about any cigar enthusiast at any time of the day.
The Emerald Corona finishes its fifty minute burn more into the medium body range with a nice mix of toast, oak and earth.
As the smoke first enters my mouth, a sharp citrus pierces my tongue, transitions to a rich cedar, accompanied by an orange zist sweetness, and finishes with toasted, earthy, and vegetal flavor.
Without question, the 1502 Emerald Corona stands at the top of the pack in a line that already has some excellent vitolas.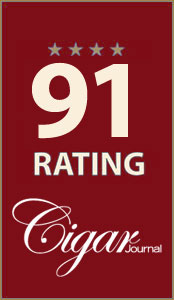 It is the blend created for the discerning smoker's delight, one that recognizes a great cigar. Its aesthetic presentation reveals the art of the handcraftsmanship that each of our cigar makers have achieved after many years of experience. It yields all the flavor and aroma from de valley of Jalapa and Estelí in Nicaragua, wrapped with a beautiful dark wrapper from Ecuador.
Overall, this stick was outstanding. It performed flawlessly with a vast amount of complexity. The flavors were extremely balanced, and the experience was reminiscent of many high-dollar cigars.
It performed flawlessly with a vast amount of complexity. The flavors were extremely balanced, and the experience was reminiscent of many high-dollar cigars.
It offered a smooth draw with big clouds of thick smoke. There were sweet and spicy earthy tones with a nice rich aroma.
When I think about what the top cigars of 2014 were for me, I have to consider the sticks I gravitated towards over and over again. I call those my "cigar luvrs" and on Twitter or Instagram you will see me refer to them as DELISH !
The wrapper on the Ruby is dark and oily with tooth throughout. The wrapper reminds me of the Padron but as a brown color rather than a dark chocolate.
This is a very solid cigar that I would be happy to add to my inventory and place into regular rotation once they hit the market. The Ruby has me looking forward to smoking the rest of the 1502 line as well.
El Ruby es un gran cigarro con una gama y riqueza de sabores que difícilmente esperaría en este precio y sin conocimiento de la marca.
El Ruby es un gran cigarro con una gama y riqueza de sabores que difícilmente esperaría en este precio y sin conocimiento de la marca.
See the review from Tales From The Humidor.
1502 Ruby selected as Cigar of the Week
Besides the impeccable construction, the flavors of the Ruby really impressed me.
Once lit, the 1502 Ruby starts with a mixture of grass, nuts and very mild white pepper. A half inch into the cigar a pleasing cherry note occurs mixing well with flavors of grass, sweet cedar, walnuts and almonds.
The earthiness was amazing, especially coupled with the pepper. As I moved through the first third the spice turned a little more heated than before.
I must say, it has a complex flavor profile - I spent quite some time determining all of the flavors. Cocoa, pepper, nuttiness and more! Burn line is as straight as an arrow!
I was really impressed with the texture of the wrapper. It was incredibly smooth. Again, I am a sucker for box pressed cigars and this just happened to be a nice one.
The pre lit aroma consisted of sweet tobacco and faint barnyard notes. After lighting the semi closed foot with no issues, a perfect draw produced tons of rich and flavourful medium bodied smoke.
The fruit and nut hints would make this a great cigar for really anyone who does not enjoy the typical cigar taste.
The Global Premium Cigars 1502 Ruby Torpedo is made at Plasencia Cigars in Nicaragua with tobaccos from the valleys of Jalapa and Esteli and is wrapped with a dark Ecuador wrapper.
Read the review by Cigar Sense on the 1502 Ruby Torpedo.
This was a really good smoke, especially in the flavor department...This really reminded me of a Cuban cigar in the profile
30 minute mark: construction is perfect, ash holds on very well, and a slow burn.
I highly recommend the entire 1502 line to anyone whom is a fan of full-bodied spicy Nicaraguan cigars.
The draw and the copious amount of smoke the 1502 Ruby produced was exceptional.
As I mentioned in the video, I have nothing but good things to say about this cigar. Construction on the 1502 Ruby was terrific and the flavors were bold and delicious. Honestly, what more can you ask for?
The draw and the copious amount of smoke the 1502 Ruby produced was exceptional.
This was a tasty, stout treat.
The first thing that really caught my attention was the amount of smoke this cigar produced; had I been indoors it would have already filled a small room. The smoke had an enjoyable sweet oak aroma.
Delicious notes of rich cedar, cinnamon, creamy cocoa, macadamia nut and earthy tobacco with a later development of spice. Incredible aroma
Well packed with minimal veins and near invisible seams.
The spice added in makes it almost custard like, though the earth, cedar and pepper are still in the background.
The Ruby Lancero is medium in flavor and strength, delivering ample amounts of cream and red pepper that is smooth and somewhat woody. Just be sure to smoke it easy as it burns pretty fast!
A musty earthy tasting tobacco moves to the front and chases the fresh green flavor of the cedar to the back. This lets a peppery allspice break through to add a bit of flair, along with a tender kick to the mix.
I've found the Ruby to be as unique a cigar as I have smoked out of Nicaragua. It's one I'd smoke again - and it's definitely worth a fiver
Overall the 1502 Ruby Corona was another great stick with solid construction, that smoked well and had good flavors.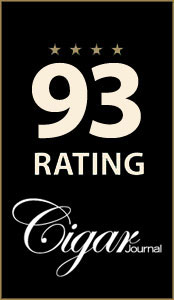 If you like strong cigars, you'll definitely love this one. This particular cigar is made to satisfy the discerning smoker who enjoys bold and strong flavors. It has a double binder and long filler from Nicaragua. With its natural Maduro sun-grown tobacco wrapper, nurtured with all the natural elements where it gets its flavor, especially its strength and character.
In my book this is an 90 point cigar.
On the draw, I'm treated to a fruity dark chocolate note alongside damp wood and black pepper spice.
We think the hosts enjoyed this one. Find out more when the crew gets their chance to 1502 it up!
Great burn. You get a nice even mix of cedar, cocoa, and a black pepper spice.
A cigar I really like and will have to put some more in my humidor. I recently received all three 1502 blends in lancero format, so look for those recaps in the not too distant future
As I was smoking the Black Gold I couldn't help but think it would pair really well with an espresso or an Irish whiskey
What a terrific cigar! From start to finish, the Black Gold delivers terrific balance and flavor. It is certainly full bodied while not being overly in your face. Just terrific all around and very highly recommended.
From the smell of the wrapper, to the draw, burn and flavors, this cigar is far beyond any other I have smoked from the HOUSE OF EMILIO!
I have to go with the 'it's a really good cigar' crowd on this one.
Great after dinner cigar.
The sweetness that pulled through made this cigar an excellent dessert right after a great dinner. The 1502 Black Gold is a rich, savory smoke that I could see myself revisiting often.
This cigar as it burnt, had a spot-on burn line, it produced a nice volume of smoke, and left behind a light grey ash that held until the mid point.
The 1502 Black Gold is a rich, savory smoke that I could see myself revisiting often.
I'm impressed with 1502. I've really enjoyed each one I've had and this cigar was no different.
The Black Gold tasted of really rich earth, roasted nuts, coffee and pepper with a sweetness that ranged from vanilla to butterscotch
First it was oak, then molasses, followed by sweet cream, coffee, charcoal and chocolate creating my favorite "burnt mocha" finish.
Another great boutique cigar from 1502 enjoy! Definitely great Nicaraguan flavors!
The draw is just about perfect, the burn line is exceptionally even, and the gray ash holds together well.
First, we took all the cigars we'd rated over the course of the last year and set aside only those which received ratings of 92 or higher. There were 78 in all. That's the easy part. We then had our panelists re-taste those candidates
A rush of thick black pepper envelops my tongue and engulfs the senses. Beneath is a deep oak flavor that seems to bolster the pepper. I also get a little taste of coffee mixed in.
It is always a pleasant treat to smoke a cigar with its creator and this meeting was truly an honor. The Black Gold offers an extremely satisfying array of complex flavors that are enhanced that much more in the Lancero vitola.
There is a wonderful sharp black pepper on the retrohale that stays pretty consistent through the first third and a slight sweet licorice that gets stronger as the first third draws to a close. Construction-wise, the burn is razor sharp, and the draw is excellent with just the right amount of resistance for a lancero.
From the cold foot, rich notes of cocoa and toasted tobacco greet the nose while the free cold draw has nuances of cocoa and sweet, ripe tree fruit.
Draw was close to perfect through a 9mm hole.
The cigar is smooth to the end, allowing me to enjoy the clean, earthy profile down past the final inch